"Shoes-he's wearing real shoes!"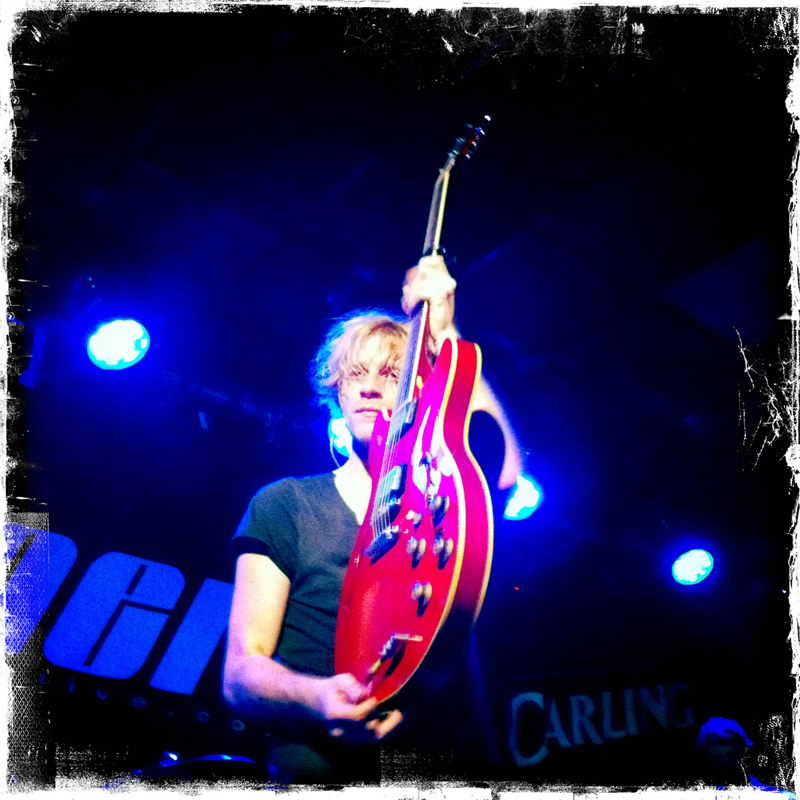 I wasn't originally attending this gig. A combination of several factors that I won't bore you with right now. However, the persuasion of folks who were unable to attend expressing a need for wit (ahem) words and visuals from the gig resulted in a last minute change of heart. So I headed south flying solo, with only my ipod and the oddities of the motorway for company – a cavalcade of artistically painted Vespas, a kid mooning from a Volvo, and a rather unfortunate youth being sick over a crash barrier on the hard shoulder. Yep, Southampton is a bastard long way off.
The Joiners should be granted listed status, preserved for eternity purely for the exuberance of living legend Pat, who joyously greets me as I stumble through the door fashionably late. I locate the posse & quickly realise that, although I am 200 miles from where I live, I know more people in this room than I do in my hometown.
It is a struggle to be complimentary about support band Oresteia. I could see the look of bewilderment on faces around me as brains tried to unravel the mystery of what the noise emanating from the stage was actually supposed to be. I'm pretty sure it was supposed to be something. They had great conviction in their material, alas it seemed at times as though each member were playing a different melody, and the drummer looked resigned to the fact that none of the melodies were in time with anything that he was playing either.
Setlist hidden from view, but for once I am more than content to be surprised tonight, as the dulcet thumps of The Lost Estate resonate through the floor I am reminded of why I am here. I sense this gig is going to be iconic. As a veteran I can already spot the signs, and the crowd is not disappointed when they blow the cobwebs off Out Of Nowhere for a much needed reprise. Afterwards Greg tells us that they are planning a Greatest Hits compilation (now now, don't roll your eyes) and wants to know what we'd like on it, which he says they will of course completely ignore and just do their own thing anyway. Somewhere to the left of me is a shout for In Brilliant Sunshine and the Gilberts share a knowing giggle as Ron's musicbox cranks out the opening bars.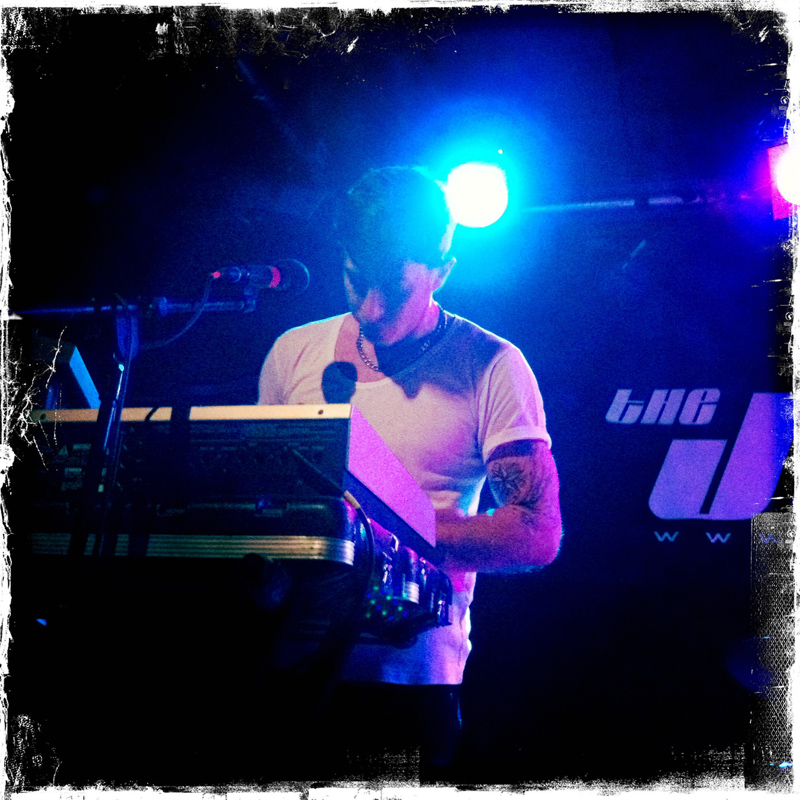 Despite the steady melodic pace of the next few tracks the sweat is beginning to pour off everyone around me without much exertion. Greg frequently stands by Rowly's fan, as the temperature was making him "feel a bit ill" He delights in tentatively flinging water at us, until he is reprimanded for it being dangerously close to their already temperamental equipment. The resignation on Greg's face conveys a frustration that he knows he'll never really have the balls to go all Townshend on us. A minutes noise is granted for the Japanese tragedy, then its time to pick up the pace again with amusingly mixed up lyrics to Girls On Fire, followed by Aaron's vocal stint (PA & FAF). Some folks around me are dangerously close to passing out.
After being told the previous week that we may get an airing of new song Summer Army, it is with great surprise to all that we first get to hear another new tune Heart – performed by Greg alone and bearing all the hallmarks of a classic Delays track. The final lap is upon us as fan favourites LTC & LIAM whip everyone into a dripping frenzy of bouncing souls & waving limbs. More pleas from Greg regarding the heat are met with a loud crack as Jon takes matters to hand and kicks the fire door open, sending in cool night air to the cheers of the dripping disciples. With Valentine in the bag, they decide there isn't much point clambering off for the usual fake encore and so take a few moments to compose themselves before treating us to new song #2 Summer Army. Some lovely ambient synths at the start are short lived as with a snap, crackle and rather loud pop it succumbs to the heat, leaving Greg & Col to carry on semi acoustic, of course this being Delays it doesn't hamper the enjoyment of the song one iota. Hey Girl gives it chance to cool down before it is finally brought back to life for the sublime On, and of course no setlist is complete without You & Me.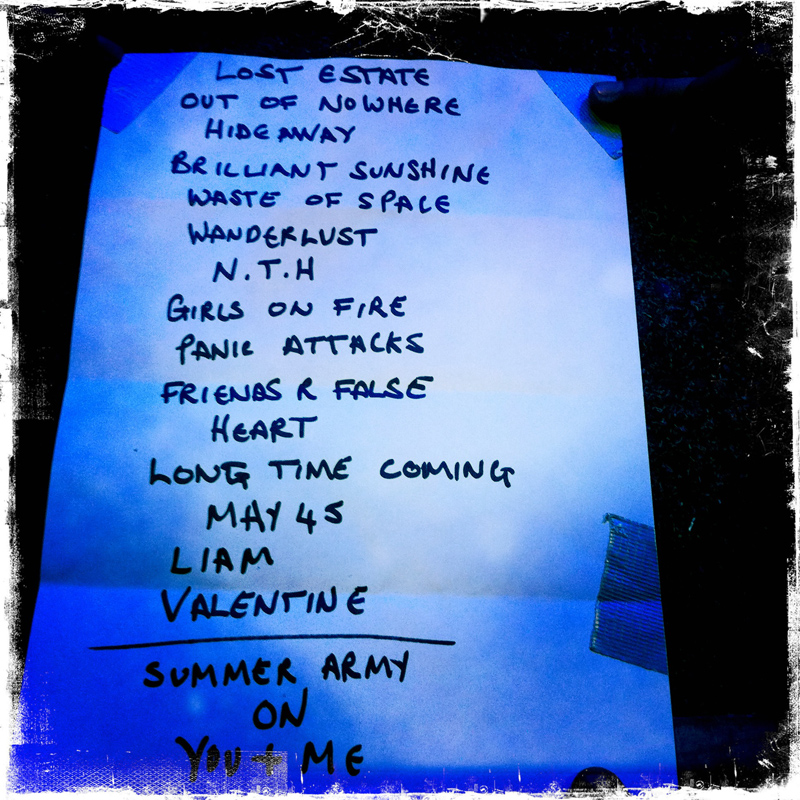 I think even my teeth are sweating. File this one in the top 10. Despite not being a local, my love for the Joiners will remain forever, when corporate venues rejoice in kicking you out mercilessly before the amps have even been switched off, here you are among friends. The bar remains open and we all get to wind down off the high and lament over what just took place, and the boys mingle, chat with comrades & indulge any polite request bestowed upon them by their tribe. There is no need to ask whether they enjoyed the show as Ron is bouncing off the walls Charlie Sheen style. Andrea leads the congratulations on his recent nuptials, to which he gestures towards the other side of the room where Michelle is chatting, looks himself up & down and proudly exclaims "Yeah…look-she's gagging for it!"